| OnlineCosmetologyExam.com | Nail Tech Exam Practice |
| Free Cosmetology Exam Practice | Esthetics Quizzes |


EARLIEST KNOWN FAUX EYELASHES
Faux eyelashes have been applied since early Hollywood film stars applied long and bushy lashes to create a dramatic look which appealed to their audience.  At the beginning of the 20th century, false eyelashes were made of fringe.  Fringe was painstakingly affixed to thread and by means of glue the faux eyelash were adhered to the eyelid. These eyelashes were noticeably unnatural and did not stay attached for very long – only a matter of hours. The procedure to apply the fringe eyelashes was quite expensive and only famous people could afford it at that time.
EYELASH EXTENSIONS
Eyelash Beauty has come a long way, since then.  Today, individuals can have numerous services designed to enhance the appearance of their eyes.  One very popular, current technique is known as eyelash extensions.  Eyelashes are enhanced lash by lash with extensions that actually weigh less than the classic layers of mascara most women wear on a daily basis.  A typical set of these eyelash extensions will last for the life of one's natural eyelashes.  Clients can choose to have a full set applied or partials.   The average cycle of a single lash is about 90-120 days.  However, factors such as a person's individual eyelash character, lifestyle and normal care of your eyelashes will affect how long one's eyelash extensions will ultimately last.  Touch ups could be approximately every 2 weeks.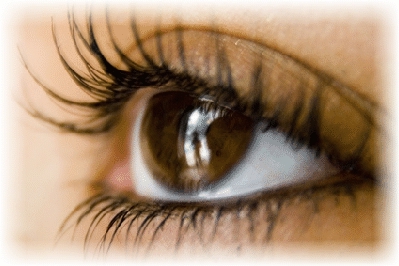 A video demonstrating an eyelash extension procedure can be viewed at the following link:  www.youtube.com/watch?v=Z5LQimFojKI
Eyelash extensions can come in diverse lengths, colors and thickness to create a stunning, natural look. They can also come in dazzling colors, such as violet, purple, blue, green, and red to draw attention to the natural beauty and color of one's god-given eye color and eyelashes. When professionally and correctly applied, one cannot feel a difference after having eyelashes enhanced with Eyelash Extensions. If a difference is felt, then the eyelash extensions were not accurately applied and one would need to contact a professional immediately.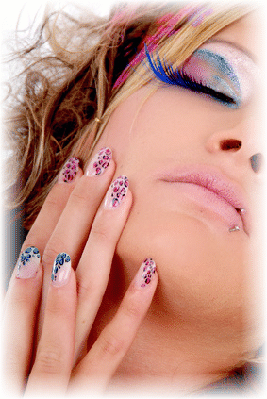 Eyelash Extension Maintenance Tips:
 1. Don't allow your eyes to get wet for the first three days to make sure the glue sets completely.  If they do become damp in the shower or when you wash your face, lightly pat them dry.
2. Stay away from oil-based cleansers/makeup removers, thick eye cream, as well as waterproof mascara – all of these can loosen the adhesive bond.  Water-soluble mascara will work with some brands of eyelash extensions.
 3. Book an appointment early in the day.  The process requires meticulous application.
4. Never remove the extensions yourself.  You would pull out many of your natural lashes if you do. 
5. Be aware that if you rub your eyes a lot, your extensions may not last as long.
CLUSTER OR FLAIR LASHES
Cluster, or flair lashes are less expensive and less demanding than eyelash extensions.    Some salons and spas may be offering these under the name "las extension".  Clusters or flair lashes can be done in less than half the time of true eyelash extensions, and usually cost much less.  However, these small GROUPS (not individual lashes) of 4-6 hairs should never be applied with the semi-permanent adhesive used for actual lash extensions.  If the semi-permanent adhesive is used with Clusters or flairs it often causes harsh loss of natural lashes.  This happens because these clusters of hairs tug at the natural lashes from several different directions at the same time.  Cluster lashes can be harmless to use, provided they are attached with adhesives that are worn for one day only, but it is deceptive to refer to them as extensions.  Eyelash extensions are applied as single, individual hairs.
EYELASH PERMING
An Eyelash Perm is a safe and efficient way to keep lashes curled all the time.  The intensity of the curl can be adjusted to meet your needs when applied by a professional. The procedure can take about one hour and the results can last for 4-6 weeks, or the natural growth cycle of the eyelashes.
The procedure involves rollers that are affixed to the eyelids.  These rollers come in diverse sizes, allowing the client to select from a range of very-curly eyelashes to a more every-day look.  Each eyelash is then curled over the rollers, and a permanent solution is applied.  The solution allows the lash hairs to retain their curl for a period of 4-6 weeks. 
A video regarding eyelash perming can be viewed at the following link:  www.youtube.com/watch?v=f5lG9bOHYDE
Maintenance:
Try to avoid wetting the lashes for a few hours after the eyelash perm.  Applying Eyelash Conditioner to the lashes daily is desirable.
EYELASH (AND EYEBROW) TINTING
Tinting the eyelashes is a quick and easy solution for those who depend on mascara to darken lightly-colored lashes. Dyeing the eyelash hairs can dramatically enhance the look of the eye area and is great for those who don't have time for eye makeup. Results last up to 4-6 weeks, or the natural growth cycle of the lashes. 
For detailed information on eyelash tinting and perming: Beautiful Eyebrows & Eyelashes: Perming & Tinting

EYELASH CONDITIONERS (PROMOTES GROWTH)

There are numerous eyelash conditioners on the market right now. The purpose of the eyelash conditioner is to promote eyelash growth and strengthen the eyelashes. In a matter of weeks lashes can appear dramatically thicker, longer and sexier. Read more here:

LiLash Eyelash Purified Growth Stimulator
OTHER EYELASH ENHANCING METHODS
Other ways to enhance your eyelashes include applying Faux eyelashes, using eyelash curlers even a Heated Eyelash Curler

and also cosmetic tattooing of eyeliner.  Cosmetic tattooing, of course, does not lengthen the eyelash, yet it does enhance the base of the eyelash and widen the appearance of the eyes (and it eliminates the need for eyeliner being applied on a daily basis!)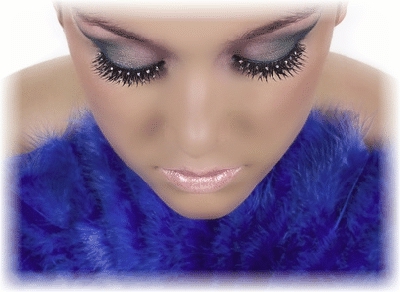 MEDICAL EYELASH TRANSPLANTTION
For those who have medical reasons for loss of eyelashes, there is also the availability of eyelash transplantation. If a disease responsible for hair loss is active, transplantation should not be undertaken. When eyelash transplantation is performed for esthetic enhancement, the patient's rationale is usually to gain greater eyelash density (adding eyelashes to the eyelid among existing eyelashes), or eyelash length (grafting hairs into the eyelid that have the capacity to grow longer than existing eyelashes). Patients with total absence of hair due to congenital atrichia are not candidates for eyelash transplantation as they have no source of donor hair to use as transplantation grafts; the patient with congenital atrichia is a candidate for eyelash prostheses that are fastened to the eyelid with adhesive.
COSMETOLOGY STUDENTS
Cosmetology students may learn eyelash (and eyebrow) tinting, as well as the application of faux eyelashes during their training at beauty school.  Also, it may be possible to receive training in eyelash extensions while holding a student license.  The eyelash extension training may not necessarily be taught at the beauty school the student is attending, however, training may be obtained directly from a representative of the company that markets the kits for applying eyelash extensions as long as the trainee is licensed as a cosmetology student, or of course, is all ready a licensed cosmetologist.
For information to help you choose the very best beauty school to attend, visit www.finallywhatyouneed.com